Jascha's Story: "Fall of '97. I was away for fall break, and coming back a little late. I had a double single, with a balcony. So, a bunch of nefarious folks broke into my dorm room, removed all the furniture, and installed a disco ball and stereo system. When I come stumbling to my room, there are 20 or 30 people discoing in it, with no furniture. And Ray Hawk (this tough guy, always wore leather) is standing at the door barring entrance. He has a list of names of everyone in Risley . . . except me . . . . he looks me up when I arrive, and won't let me in. fortunately, Merton (my next door neighbor who shared the balcony) was brushing his teeth, so his door was open. I dodged through Merton's room out onto the balcony and into mine. And discoed in good humor. And then stole someone's door. But not immediately."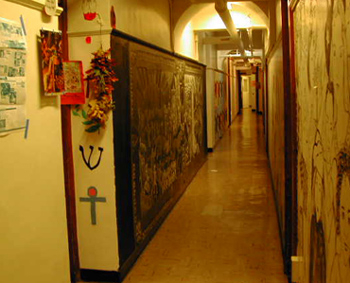 Keep walking.
There's a room on your right.
There's a "roomish alcove" on your left.
Turn around.