(Sculpture pictures current only through 2006)
This work of art was a series of rectangles designed to rotate in the breeze. Since they rusted, a creepy sound was emitted that tended to freak out unsuspecting joggers on the path. Designed by "Architect Scott."

The sculptures were intended to be a temporary installation, and though everybody thought they were safe when they passed the deadline year, they were taken down in '06 to make way for Thurston Ave bridge construction. Goodbye, fair creaky-things. We will miss you.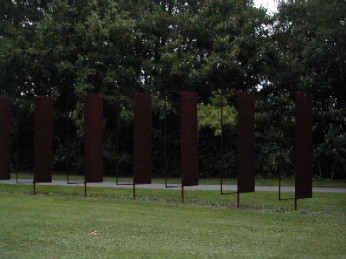 Get closer to the creaking rusty rectangles.
Turn around.