I was one of the original Risleyites, 1970-71. I'll just add one bit to your lore.
Sometimes we got bored. So one of the things we'd do was chase one another around the couch in the living room (I guess it's what you call the CLR). Since we weren't always that creative, we called it "Run Around the Couch."
As they say, you had to be there. :-)
-- Mark Cannon '71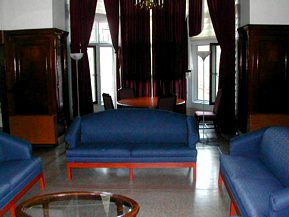 Look out the windows.
TV room to your right.
Cowcliffes to your left.
Take a closer look at the stained glass panel in the door.
Turn around.