Up on your left is the haiku board. Every week, the theme changes.
Also to your left is the dark, soulless pit that is home to Milo. You can hear the ravens from here. Some jovial boys live across the hall to balance the chi. Hmm. Come to think of it, directly downstairs in 2 Main there's a battle of light and dark forces, as well.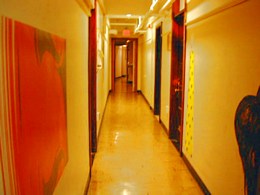 Forward.
Visit the jovial boys.
Turn around.