The Second Floor Kitchen
Gaea's story: "When my mother visited in 2002, things got a little rowdy (you'd have to know my mom) and ended with her chasing me and Danielle down the long hallway while squirting fire extinguisher powder at us. After the fight, we hung it back on the kitchen wall, and asked each other, "Do you think fire extingushers need to be... you know... refilled?" None of us really had that much experience, but we figured it probably held a lot of powder.
So... fast-forward a few months, when a befuddled freshman decides to warm up a slice of pizza-- still in the cardboard box! Danielle and I were living next door to the kitchen at the time, so when we smelled smoke we turned to each other. "Do you think the fire extingusher will--"
Just then, we hear: "WHY ISN'T ANYTHING COMING OUT? FUCKKKKK!"
Danielle and I started quietly packing our things and heading downstairs. We were already across the yard when they sounded the alarm.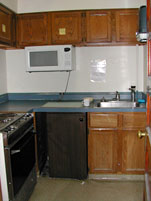 Back to the hall.